For
wendy,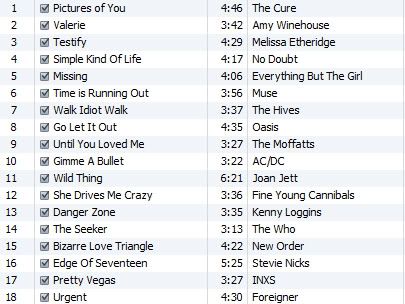 18 tracks, 74 minutes, 71.43 MB Zip

I chose a bunch of songs that seemed like the perfect embarrassing shower songs. The first nine are the ones Sam likes to sing. You know he loves Melissa Etheridge. As for Dean, he's got the next nine. I'm sure he harbored a long secret crush on Stevie Nicks. Since occasionally he inflicts "The Edge of Seventeen" on Sam at Seven AM, it's no longer secret. He also says he hates 80s new wave music and then Sam gets home finds Dean warbling to "Bizarre Love Triangle."

So yes, here's a mix of ridiculous classic rock, 80s pop, and indie songs. Enjoy!

And now for something completely different. I'm mostly moved in. I live on the fourth floor of an entryway of pretty much all boys. It's going to be interesting.