So I started this last night as procrastination for working on my senior thesis, and now it's not really done exactly, but I finished it to the best of my ability, because I actually have to do my work. Hah.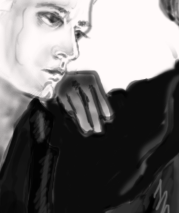 So I basically had to take a step back from this. You can see how obsessive I was getting about the pants and Brad's leather jacket. OOOOPS. Points if you can figure out what ACTUAL Hugo Boss editorial this was taken from.

ETA: I figured I'd go back and fix Stark's shoes, and his face. Ahem. Maybe one day I'll go back and do his left hand better. And his jacket. And then Brad's hair. GARG. This thing is driving me insane!

Also for some reason I can't explain photobucket keeps resizing the image. It's v. strange.

ETA2: Tinypic, SO MUCH BETTER THAN PHOTOBUCKET.