I got back from Coachella this morning at 6 AM where technically the festival was still going on. Meredith had to be at work today though, so we cut out after CSS.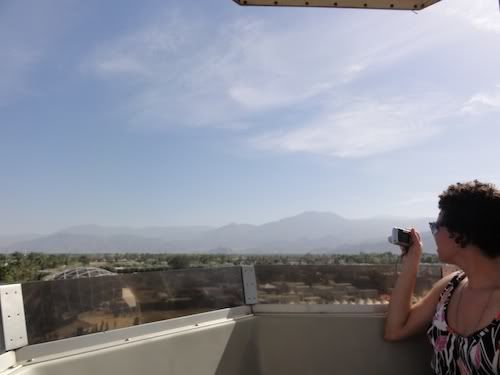 The view of the mountains from the ferris wheel.
We camped, we rollerskated, we played jenga with strangers, we went to interactive art exhibitions, we rode the ferris wheel, we cried when we had bands at conflicting times, we did not see a single celebrity (Robert Downey Jr. was there, NO FAIR), and we rocked out to a grand total of 24 shows. And we did all that with me sick as a dog. I had a headache and a fever as well as serious GI distress and was slugging down a water bottle every thirty minutes and some how I managed to stay on my feet with only one visit to a medical tent. By Sunday I actually felt human again.

We would've seen more, but you really underestimate the effect the heat has on you.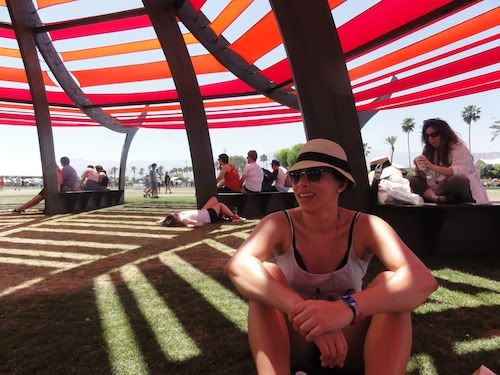 The standouts (really hard to make this list because everybody killed it)...

Hurts, Yelle, The Joy Formidable, War Paint, Arcade Fire, Cut Copy (again), Kele, Gogol Bordello, Twin Shadow, and Empire of the Sun.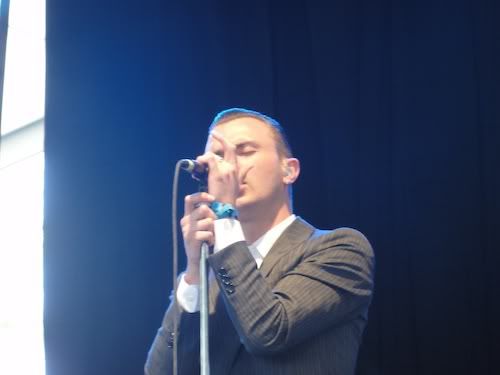 Theo Hutchcraft of Hurts, the only act I remembered to take pictures of!

Luke Steele of Empire of the Sun (Not my photo)



Empire of the Sun wiped the floor with everybody else's production values. He had backup dancers, costume changes, a video backdrop, and it was the sickest spectacle of the entire festival, because I don't think ANY of us were expecting it!

The disappointments...

Sleigh Bells, the medical tents (this counts as they thought I was a drug addict when Meredith dragged me over and asked them to do something for me), Animal Collective, Delta Spirit, the serious lack of tents to sit under when not dancing up a storm, and only one concession stand selling iced tea.

It was so hot we ended up discovering a couple of new artists when we ducked under the event tents just to get out of the sun. The dub step tent, as we affectionately nicknamed it, was so hot from all the people packed together, raving, you could see steam rising off the bodies. Every morning we woke up at 7 am whether we wanted to or not out of sheer self-preservation. A couple of times Meredith and I had to get in the car and turn on the air conditioning to make sure that we didn't simply lose our sanity to the hundred degree weather.



Arriving at the venue early every day was a great plan. A lot of people just rolled in around 5 when the bigger acts came on.



I would change into my pajamas every night and discover new bruises from drunk people slamming into me late at night.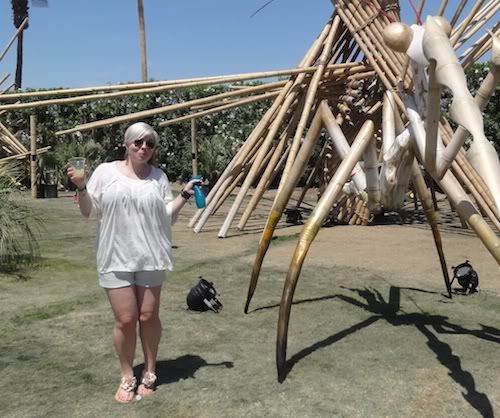 Me with the only cup of iced tea I had nearly the entire venue and a spray bottle for misting.



So guys, who's in for next year?