I got this locket on Saturday, it's nice, I'm really very fond of it, and it matches my earrings. This, however, is nothing special. The important thing is that when I opened the locket I found my mother had pasted a photo of Jared and a photo of Jensen on the inside. Not that I mind, yo! It's just hiliarious that my mother knows me that well. Although she claims it was a joke. Hah, well now I'm actually going to wear it Mom, so maybe it backfired.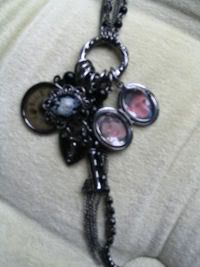 They're so cute, I only wish she'd used better quality photos!
Anyway, I'm back at school and I have my laptop back, so expect me to be bugging you guys again regularly.

to whom it may concern . . .I maintain that Honest Tea in Glass Bottles is still better than Honest Tea in plastic ones.